Description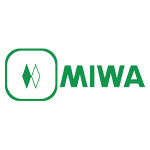 LB Cylinder(variable tumbler cylinder)
High security and high functionality
LB cylinder ensures high security and high functionality by
using variable tumblers with our unique variable mechanism
arranged in 13 rows, and upper and lower locking bars that
are very resistant to unauthorized unlocking. The main tumblers have 4 positions each, and the side
tumblers have 2 positions each.
Theoretically, approximately number of key combination is
26.1 billion.


Prevention of picking and unauthorized unlocking
The locking bar system (two bars, upper and lower) allows
the cylinder to turn only when the tumblers in all rows are
aligned simultaneously. The use of grooved anti-picking
tumblers realizes high resistance to picking due to the
extreme difficulty to discriminate the correct notches from
the grooves.


Resistant to attacks by drills and hole saws
As a number of high-hardness parts are used in the cylinder,
it is very resistant to attacks by drills and hole saws.
1As shown in Fig.1, without the key inserted the upper and
lower locking bars are pushed by the locking springs into
the grooves in the cylinder body.
In addition, the tumblers are pushed by the tumbler
springs. In this condition, the bars are impeded by the
tumblers (because the tumbler notches are not above or
below the locking bars), and the locking bars cannot enter
the cylinder. Therefore, the cylinder cannot be turned.
When a standard change key is inserted, the tumblers
are moved to the right and left by the key cuts, and the
notches are aligned just above and under the locking
bars. In this condition, the taper of the grooves and locking
bars counteracts the springs to set the locking bars in the
notches in the aligned tumblers, and the cylinder can be
turned.