Description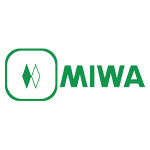 POM Series
The series are push-pull latches with simple,
slim design of the bar handle.
User-friendly
The door can be opened easily just by"pushing /pulling"the handle.
Since the POM series are of the latch type, they
can be used in combination with the DA series
(P120). It is impossible to use with the DA2F series
because the backset is 64mm only.
Note 1: The locks can be used for an out-swinging door only.
Note 2: An impact driver should not be used for installation. If thelock is installed with an impact driver, it may be difficult todismantle or may not function well due to over-tightening.
Backset (mm) : 51
Door thickness range (mm) : Type 551, 553, 554 : 33 ~42・42 ~50
Type 501, 505, 506 : 33 ~42・42 ~50  50 ~58・58 ~66