Description

LAD-ST


Features
Ideal solution for counter flaps at bars, restaurants, and reception counters.
Smooth and soft close movement near closing radius prevents flaps from
slamming. Damper function works even if the flap is only opened slightly.
Lift-assist mechanism with light opening.
Stops flap at 95° opening with stopper.
Suitable for flap thickness of 15 – 40 mm.
Can be attached to already installed counters without extra processing.
Installation position can be easily determined with the supplied template.
Specifications
Operating temperature: 0°C – 40°C
Remarks
Make sure to have sufficient hinge strength and board material strength at the side from which the flap is suspended (rotates).
Cannot use more than two sets on a single flap.
While open, the flap is not held firmly in position.
Use a single axis hinge on the suspended (rotating) side of the flap. Another possibility is to use the R series
concealed hinges for combined use.
Do not use kitchen concealed hinges.
Closed flap will not be held in place with this product alone. Please install some type of catch on the side of the flap that lifts up.
Do not use more force than is necessary to open or close the flap.
Ensure that the distance from mounting surface of damper unit and stopper to flap surface is 15 – 40 mm (see drawing).
Be careful not to get fingers caught between arm unit and damper unit.
Do not use in combination with spacer LAD-DP (for thick door) and bracket for back mount LAD-BKT (for horizontal installation).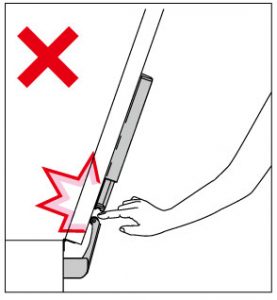 Parts Included
Binding head tapping screw 4 × 16
Template for positioning
SOFT-CLOSE/LIFT-ASSIST/WITH STOPPER/EASY POST